You may not be aware of the known links between sunlight and mental health. Not only does the sun help produce vitamin D, but it's beneficial to our brain's seratonin levels, which helps boost moods. This is especially important because a low level of seratonin can equal depression. (See Benefits of Sunlight)
---
With that being said, sunlight or lack thereof is associated with Seasonal Affective Disorder, also known as, Seasonal Depression or SAD. It affects over
3 million Americans a year
and can trigger depression and mood disorders.
---
What is SAD?

---
symptoms include:
Irritability
Sadness/depression
Change of appetite
Excessive sleep/ insomnia
Isolation
Loss of interest
Feelings of hopelessness
---
While some people thrive during the summer and are affected by SAD during the winter, there are those who suffer from the opposite.
Seasonal Depression can also occur during the summer
Although less common, this is often referred to as reverse Seasonal Affective Disorder, onset SAD, or Summer Depression
and affects
1 out of 10 people.

Research shows that southern states of the US are affected more by reverse SAD than nothern states. This may be due to high heat temperature, which can be uncomfortable and agitating.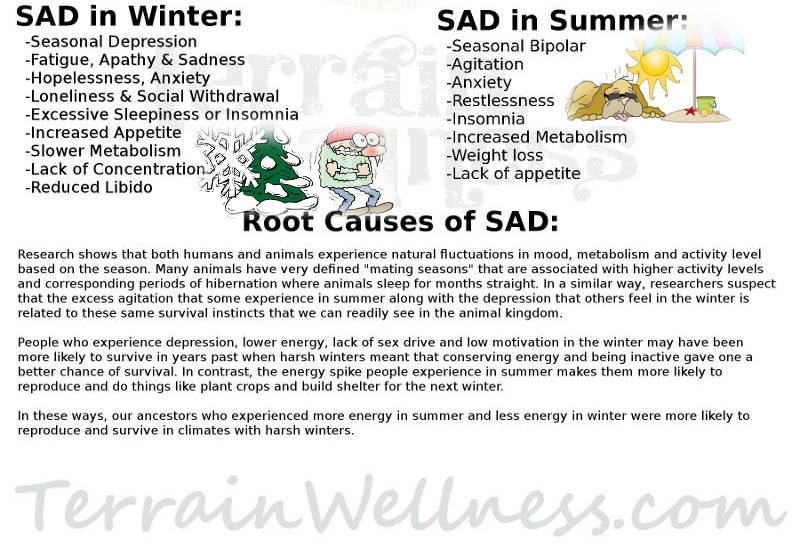 ---
TREATMENT
(FOR SAD & ONSET SAD)
Antidepressants and Psychotherapy (talk therapy)
You can find these on Amazon or lightingandceilingfans.com
See Perfect Sunny Autumn Day for Walking, & the Benefits
---
Sources:
---