This post will be mainly videos from the views of those suffering with
APOTEMNOPHILIA
also known as
BODY INTEGRITY IDENTITY DYSPHORIA (BIID)
or even
BODY IDENTITY DYSPHORIA (BID)
---
Definition:
In short, BIID is the overwhelming desire to be disabled, which may or may not include a desire of being amputated. Some wish to be paralyzed and even blind. People who suffer from this feel a huge discomfort with being able-bodied and sometimes go through extreme measures to have their wishes come to fruition. People suffering with BIID are said to have had their desire starting from adolescence.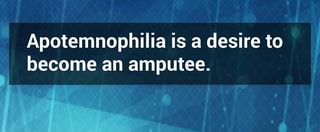 The condition is said to be related to a condition called:
Somatoparaphrenia
which is said to be a delusion where someone denies ownership of their own limbs.
---
MY TIN FOIL HAT THEORY
So I know that this is a mental illness. However, as a scifi writer and someone who is very open-minded, I believe that it's possible that these people may have suffered some form of disability in their previous lives (past lives).
---
Now go ahead an grab some popcorn before getting into these videos. As you will soon discover, BIID/BID is a truly interesting condition. Dont forget about what I've said about my past-life theory while you watch! 🙂
Check out the video below of a woman who purposely blinded herself because she's always felt she should have been born blind.
---
---
Sources:
---