What is Physician Assisted Suicide?
The choice and views of physician-assisted suicide versus the natural course of death for terminally-ill patients have been a long-debated and controversial matter. There are those who prefer the widely-accepted and traditional route of hospice palliative care, and then there are some who believe in the right of choosing euthanasia. Simply put, euthanasia is the practice of intentional suicide with the aid of a physician. These physicians can either supply a terminally-ill patient with a prescription for the life-terminating medication , or administer the drugs themselves. Euthanasia allows the patient to have more say over when and how to end their life.
---
The Great Debate
As with any controversial debate, there are valid contrasting ethical and moral concerns on assisted suicide. Not surprisingly, most religious organizations view the act as immoral and an act against God. More than the fact that they consider the act a sin, are other concerns. The Evangelical Lutheran Church in America, for example, predicts a possible increase of mishandling for those who are most susceptible, such as the elderly, the poor, minorities and the disabled.
Medical organizations and professionals who oppose believe that physician-assisted suicide would be in paradox of a physician's Hippocratic oath not to harm patients as a trusted healer and medical advisor. Like the Evangelical Lutheran Church in America, The American Medical Association also have concern for our vulnerable members or society. They fear providers may possibly be more inclined to suggest assisted suicide instead of providing whatever support needed to ease the transition. There are apprehensions within the medical community about patients being protected from corrupt doctors. The belief is that assisted suicide would pose a high ethical risk for the future, much like the opposition of eugenics.
In addition are concerns that some patients may opt in assisted-suicide for reasons unrelated to pain and suffering, such as guilt, being coerced, or feeling as if they're a burden to their loved ones.
---
Safeguards
In contrast, those who do support assisted suicide believe that those in their last days should have the right to die in accordance with their own wishes. As far as shady or unethical doctors, many states that have legalized the practice have safeguards in place to prevent corruption. For example, in Oregon, not only must the request be voluntary, but it also requires two witnesses who can attest that it's voluntary. In addition, the patient has to be the one to administer the drug. In a Colorado proposal, the state of the patient's mental health during the request would be reviewed by a mental health professional if there is reason to believe that patient is depressed or not mentally sound. Two physicians would also have to confirm the terminal illness.
---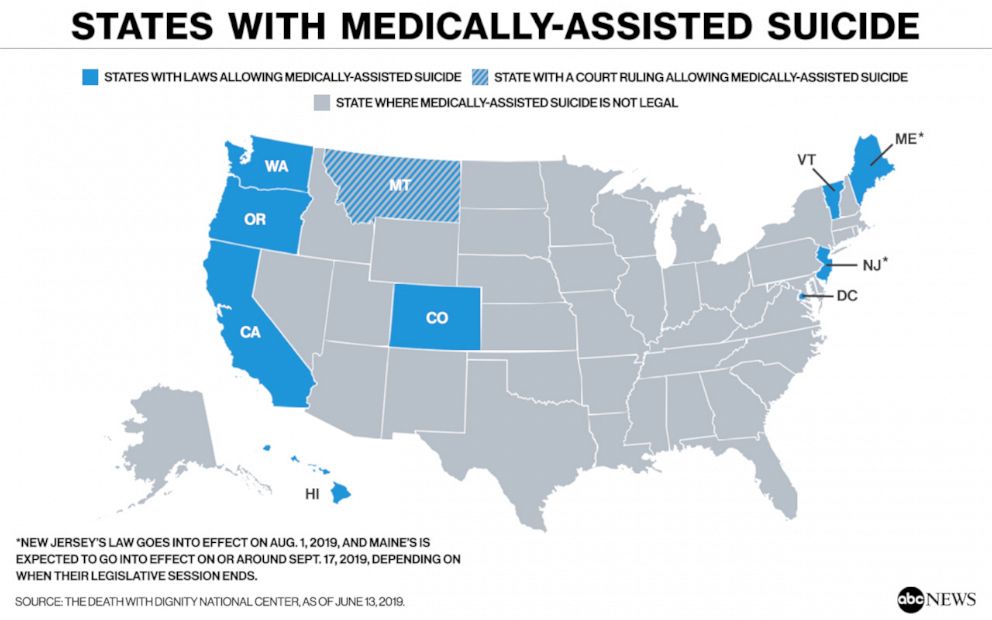 ---
My Personal Thoughts on P.A.S
The decision of an end of life choice has always been a controversial subject matter and should remain so. The legalities, ethical, and morality of the issue should always be held under a microscope to be certain that society protects the vulnerable. Those who want the option to decide their final months of life should have that freedom, within strict regulation. Only those who are in this dilemma or have witnessed the pain and suffering of a loved one can truly speak on the significance of respecting and having an end-of-life choice. As far as everyone else, the moral and ethical obligation to keep this practice from taking a turn for the worst in the future relies on our due-diligence in keeping provisions in place.
---
Check out the video below for an unbiased and equally fair view on the matter
---
Other related video(s):
---
Sources:
"Religious Perspectives on Euthanasia and Physician-Assisted Suicide (PAS) – Euthanasia – ProCon.org." Euthanasia, euthanasia.procon.org/religious-perspectives-on-euthanasia-and-physician-assisted-suicide-pas/.
euthanasia.procon.org/questions/should-euthanasia-or-physician-assisted-suicide-be-legal/
‌ academic.oup.com/jlb/article/5/2/436/4996523
time.com/4572377/dc-council-approves-death-with-dignity/.
---